The World's Most Extensive Long-term Experience with Total Knee Replacements in Young Patients

Date Published: 06.10.2013
Doctor William J. Long MD FRCSC in collaboration with members of the Insall Scott Kelly Institute for Orthopaedics and Sports Medicine in New York NY recently presented a landmark paper on their 20-35 year outcomes in young patients with total knee replacements. The paper was well received at both the American Academy of Orthdopaedic Surgery annual meeting, and at the Knee Society open meeting, both in Chicago, in March 2013.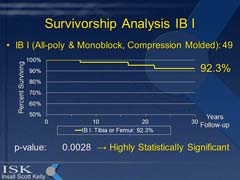 The survivorship of the Insall-Burstein I (IB I) prosthesis was a remarkable 92.3% at 30 years
Long term follow-up was obtained in a remarkable 95% of patients and survivorship at 30 years was 82.5% for loosening and wear of the components. Notably the survivorship with the earliest 'one-size fits all' design was 92.3%. This extraordinary durability is due to the design and manufacturing characteristics of the implant, and the surgical expertise of the senior surgeons, Drs. W. Norman Scott and John N. Insall.
In addition to the long-term survivorship, a very high level of function was maintained. In those patients who did not suffer any significant progression of disease into other joints, or significant medical concerns, their activity levels have not fallen off at all since their last follow-up 15 years ago. This active, healthy cohort continued to engage in activities including jogging, tennis, golf and swimming into their fourth decade with a total knee replacement.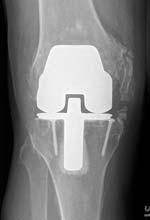 Frontal X-ray of IB-I prosthesis